Charity Involvement
Providing Education in a Clean & Safe Environment
Here at Seager Home Solutions we support a community that is not so close to home but very much at the heart of Seager Home Solutions.
The Managing Director of Seager Home Solutions, Alan Seager, has been involved in the fundraising and subsequent build of a Primary School in The Gambia since 2010 and is a well supported charity across the company with many members of staff raising money at events throughout the year. 
The main aim is to provide an education in a safe and clean environment, that would lead to better prospects for employment and training prospects, giving the children a better start in life. The Charity has achieved so much over the last few years with just over £80,000 raised.
The school is in the small village of Sukuta. Prior to Alan's involvement and that of his friend Martin Englefield, about 50 children of kindergarten age between 3 and 6 years would be taught on small benches at desks under a large tree; to shield them from the sun. About 10 children at each desk would share one writing pad. The pad would have a sentence written in ink at the top of the page and each child would copy the sentence in pencil before passing it on to the next child for them to rub out and then copy the same.
Stationery was limited due to cost and there were no resources available to build a classroom. The extent of how underprivileged these children were was clearly evident and yet each of them wore a big smile and appeared happy.
Following a very successful charity golf day in May 2011 it was time to start building the new school. A plan was put in place and work commenced in October 2011. By the time of the Charity's annual golf event in May 2012 the school was some 75% complete and the successful running of the Golf Day again saw over £12,000 being raised. That money enabled project completion and resulted in a successful school opening in time for the new year term on 24 September 2012. Alan and his team were present at the Opening and you can find full image galleries on the "Build A School Gambia" website.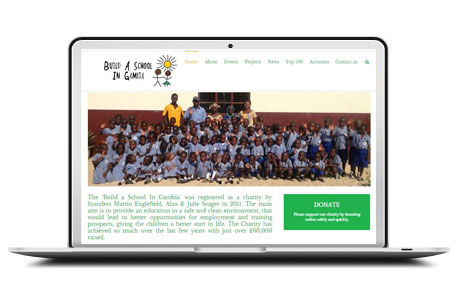 Although the school has now been built, it still has funding requirements for maintenance, stationery, salaries etc.. The idea is also to sponsor individual children with a view to supporting them into education beyond the age of seven which is when most will drop out of the education system. In addition, we may also look to build another nursery school.  And so fundraising efforts will continue…
Please see www.buildaschoolingambia.org.uk for more details on the charity.